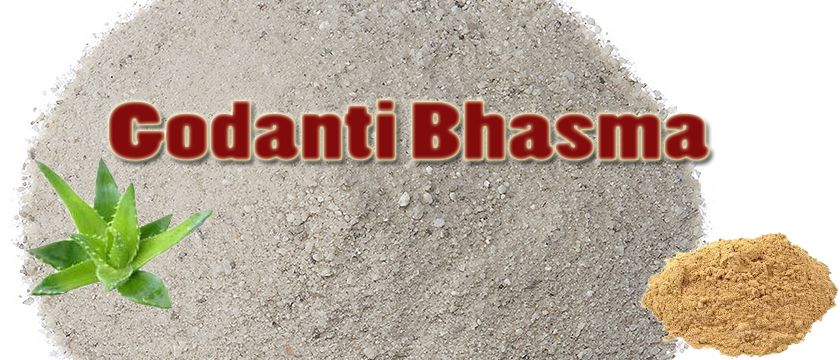 Overview of Godanti Bhasma
Godanti Bhasma is an Ayurvedic medicine which has numerous health benefits such as fever, jaundice, headache, cold, menorrhagia, diarrhea, gastric ulcers, and other benefits. Moreover, it has several medicinal properties like anti-inflammatory, antibacterial, antimicrobial, anti-fever, carminative, analgesic, antiseptic, and immunomodulatory. Bhasma is the purest form of calcium sulphate, Chandan ark, and Dharitkumari. You can purchase it through the online or nearby store at a nominal cost of 40 INR and 10 USD. It is recommended to store it in a cool or dry place. Keep it out of children reach.
Benefits of Godanti Bhasma
Godanti Bhasma has numerous health benefits as reported in various studies and we have specified some of the best-reported benefits underneath:
Chronic fever
Jaundice
Urticaria rashes
Could and flu
Menorrhagia
Gastric ulcers
Dysentery
Hyperacidity
Burning sensation
Headache
Side effects of Godanti Bhasma
Godanti Bhasma is safe and well tolerated by the individuals, however; few studies suggest the mild side effect due to overdosage or intolerance to any of the ingredients available in it. We have mentioned some of the commonly reported side effects underneath:
Indigestion
Acid reflux
Constipation
Vomiting or nausea
**It is recommended to discontinue the use immediately if you observe any abnormal symptoms after using it.
*The pregnant and lactating woman should avoid using it,
Dosage of Godanti Bhasma
Godanti Bhasma dosage depends upon several factors such as height, weight, age, and severity of the problem, however; we have specified the general dosage underneath:
125 – 300 mg

Twice a day

With lukewarm water
After meals
Note: Maximum allowed dosage is 600 mg in a day and should not be exceeded to avoid any complication.
Buy of Godanti Bhasma
To buy Godanti Bhasma click on the link mentioned below:
Disclaimer: Nothing in this article is to be construed as medical advice, nor it is intended to replace the recommendations of a medical professional. For specific questions, please consult a specialist for advice.