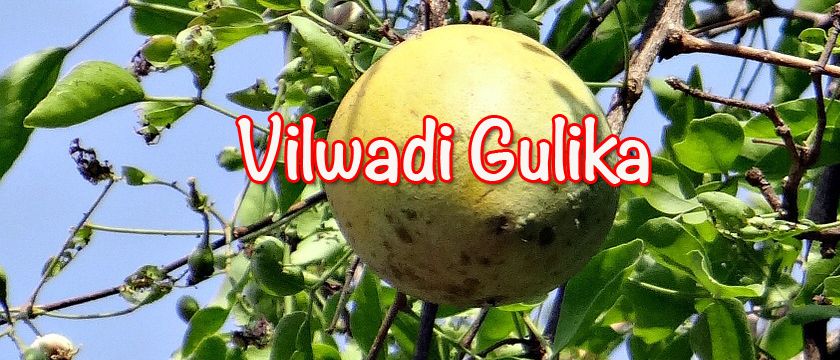 Overview of Vilwadi Gulika
Vilwadi Gulika is Ayurvedic medicine used for the treatment of several health problems caused due to an Insect bite, snake bite, scorpion sting, spider bite, rodent bite, gastroenteritis, and other disorders related to toxicity in the body. It contains antivenin, antitoxin, anti-snake venom, anti-inflammatory, anti-cholera, anti-constipation, and febrifuge properties which can do wonders in improving your health naturally and reviving the damaged cells due to excess toxicity in the body. Few studies suggest the positive results of Vilwadi Gulika in the treatment of Cholera and Indigestion within few dosages or as prescribed by the specialist however, there is very few evidence that supports this benefit. You can purchase it through the online or nearby market at a nominal cost. It is recommended to store it in a cool or dry place with no direct sunlight and keep it out of children reach. Generally, it has an expiry date of 24 months however, we suggest you check the label on the packaging for detail information.
Ingredients of Vilwadi Gulika
Vilwadi Gulika contains numerous herbal ingredients and we have specified some of the general ingredients underneath:
Ingredients
Aegle Marmelos
Ocimum Sanctum
Pongamia Pinnata
Valeriana Wallichi
Cedrus Deodara
Terminalia Chebula
Terminalia Billerica
Phyllanthus Emblica
Zingiber Officinale
Piper Nigrum
Piper Longum
Curcuma Longa
Berberis Aristata
Basthamuthra
**Above mentioned ingredient may vary from the actual product.
Health benefits of Vilwadi Gulika
Vilwadi Gulika has numerous health benefits as reported in various studies however, we have specified some of the best-reported health benefits underneath:
Snake Bite – It acts as anti-venom in the body and prevents the damage from the toxins because of the snake bite naturally. It is advised to make a paste of it and consume it with lukewarm water or you can apply the powder on the wound post cutting the wound and flushing out the toxin blood out of the body for best results
Scorpion Sting – Similarly, you can use it in case Scorpion sting and it has shown the tremendous results in preventing the further damage and revving the damaged cells or body part within few dosages or as prescribed by the specialist
Other commonly reported health benefits have been specified underneath:
Indigestion
Constipation
Cholera
Gastroenteritis
Side effects of Vilwadi Gulika
Vilwadi Gulika is safe and well tolerated but pregnant and lactating woman should avoid consuming. Recent studies suggest that overdosage or intolerance to any of the key ingredient can lead to a severe health problem which needs medical attention on priority and we have specified some of the commonly reported side effects underneath:
Burning sensation
Vomiting or Nausea
Heartburn
Palpitation
Ulcers and Blister(extreme)
**It is recommended to discontinue the use immediately if you observe any of the above-mentioned symptoms to avoid any further complications.
Dosage of Vilwadi Gulika
Vilwadi Gulika dosage depends on several factors such as age, height, weight, gender, and severity of the problem however, we have specified the general dosage underneath:
| | |
| --- | --- |
| Children | 250mg – 500mg |
| Adults | 1000mg |
Twice a day
With lukewarm water
After meals
**Maximum allowed dosage is 3000mg in a day
Buy Vilwadi Gulika
To buy Vilwadi Gulika click on the link mentioned below:
Vilwadi Gutika 90Tablets – Ayurvedic
Disclaimer: Nothing in this article is to be construed as medical advice, nor it is intended to replace the recommendations of a medical professional. For specific questions, please consult a specialist for the advice.