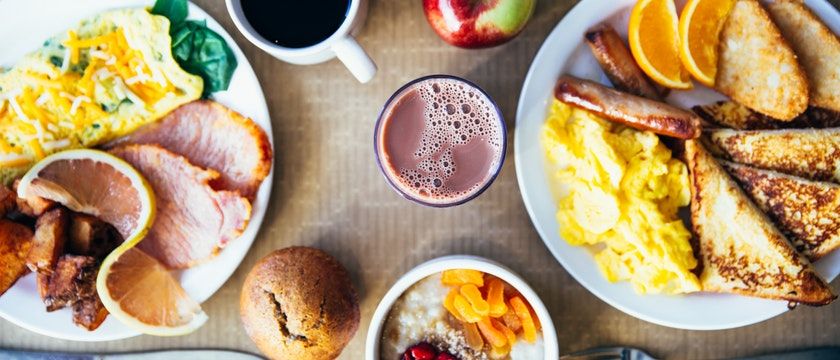 First meal of the day is the most important one. A nourishing breakfast is the best way to get a healthy and lean body.
Find out the best options to have in the breakfast which will keep you full for longer and prevents you from binge-eating.
Oatmeal for Healthy Breakfast
Oatmeal is a perfect meal for a healthy breakfast, being rich in fiber, this food keeps you full for a longer time. Oatmeal is also a slow-released carbohydrate. and are also rich in omega-3 fatty acids, folate, and potassium.
How to Make It:
Ingredients
1/2 cup coconut milk or cow milk
1 cup oats
1 tbsp honey
2 tbsp unsweetened coconut flakes
1/3 cup chopped mango or banana
Instructions: 
In a medium saucepan over high heat, bring milk to a boil. Stir in oats and honey, reduce heat to low, and simmer until oats are tender and creamy 5 minutes.
Meanwhile, in a small dry skillet over low heat, toast coconut flakes until golden, 2 to 3 minutes.
Top oatmeal with coconut flakes and fruit
Peanut Butter Toast for Healthy Breakfast
Our lifestyle is getting so busy that we don't have time to make a healthy breakfast for us. So peanut butter toast is the best meal for your breakfast as it is easy to make and contains a lot of health benefits.  Being rich in protein which is good for building and repairing muscles, it improves heart health, boosts energy and also, contains potassium. So wanna have nice breakfast try this:
How to Make It:
Ingredients
1 slice whole grain bread (gluten-free if needed)
1/2 – 1 Tablespoon peanut butter or almond butter
toppings of choice: banana slices, berries, chia seeds, chocolate chips
Instructions
Toast bread, spread on peanut butter, sprinkle on toppings and enjoy.
Quinoa for Healthy Breakfast
As per the nutritionist research, Quinoa is way ahead in nutrient value than other options. So planning to begin with a healthy lifestyle try this in breakfast for best results. It is one of the most protein-rich foods we can eat, contains twice fiber than other grains, also contains lysine and iron as well.
How to Make It:
Ingredients
1 cup uncooked quinoa
2 cups water
¼ teaspoon salt or just you like it
Instructions
Rinse the quinoa and drain well
Combine the rinsed quinoa and water in a saucepan
Remove the pot from heat, cover, and let the quinoa steam for 5 minutes
Remove the lid and fluff the quinoa with a fork. Season with salt, to taste
Serve hot
Eggs for Healthy Breakfast
Eggs are a very good source of inexpensive, high-quality protein, rich sources of selenium, vitamin D, B6, B12 and minerals such as zinc, iron and lower amounts of cholesterol as well. Add eggs in the breakfast to have an energetic day.
How to Make It:
Ingredients
Eggs
Water to boil
Pinch of salt and pepper
Instructions
Place 4 eggs in a saucepan of boiling water, then cook over low heat, 4 to 5 minutes; drain
Slice off the tops and season with salt and pepper
Serve with toast strips
Black Beans for Healthy Breakfast
Black beans may help strengthen your bones. It also contains quercetin and saponins which can protect the heart. To give an extra boost to your healthy breakfast try this.
How to Make It:
Ingredients
2 cups kidney beans
1/2 pound bacon
1 onion, finely diced
3 tbsp molasses
2 tsp of salt
1/4 tsp ground black pepper
1/4 tsp dry mustard
1/2 cup ketchup
1 tbsp Worcestershire sauce
1/4 cup brown sugar
Instructions
Soak beans overnight in cold water. Simmer the beans in the same water until tender, approximately 1 to 2 hours. Drain and reserve the liquid.
Preheat oven to 325 degrees F (165 degrees C).
Arrange the beans in a 2-quart bean pot or casserole dish by placing a portion of the beans in the bottom of the dish, and layering them with bacon and onion.

Worcestershire sauce and brown sugar. Bring the mixture to a boil and pour over beans. Pour in just enough of the reserved bean water to cover the beans. Cover the dish with a lid or aluminum foil.

Bake for 3 to 4 hours in the preheated oven, until beans are tender. Remove the lid about halfway through cooking, and add more liquid if necessary to prevent the beans from getting too dry.