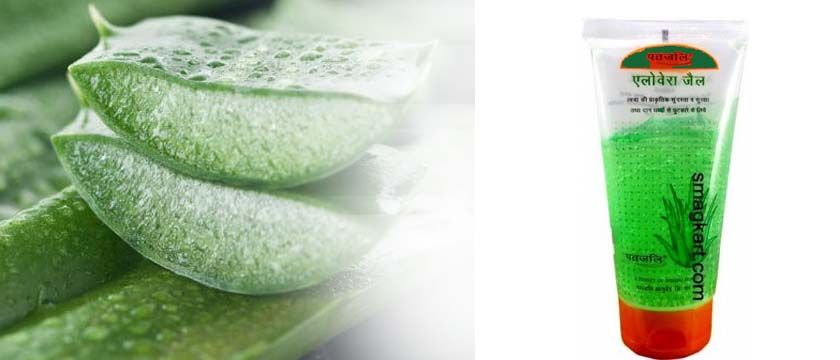 Overview of Patanjali Aloe Vera Gel
Aloe vera has been used since ages as an ingredient in herbal medicines, cosmetic, food, and supplements. Aloe vera contains many vitamins including A, C, E, folic acid, choline, B1, B2, B3, magnesium, zinc, sodium, iron, and chromium. Patanjali Aloe Vera Gel contains the aloe vera as a key ingredient in their cosmetic product categories such as aloe vera gel for treating several skin ailments including acne, burns, wounds and sun damage. I personally prefer using it because of its 90% purity and it works great for me. It has been extracted naturally from aloe vera plan that's the reason it makes it unique and useful. You can buy aloe vera gel through the online or nearby market at a nominal cost(Green Leaf Pure Aloe Vera Skin Gel, 500g
).
Ingredient of Patanjali Aloe Vera Gel
| Ingredient | Quantity |
| --- | --- |
| Shuddha Rasoth (Rasont) – Berberis Aristata | 150 mg |
| Neem Seeds – Azadirachta Indica | 100 mg |
| Permitted Color | Brilliant Blue, Tartrazine Yellow |
| Vitamin E | Anti-oxidant |
| Preservatives and agents for fragrance | Q.S |
Benefits of Patanjali Aloe Vera Gel
Patanjali Aloe Vera Gel is used to cure or treat several health problems and recent studies have shown positive results with its usage in the health. Some of the best-known benefits have been specified here:
Acne – It can be characterized as a serious skin problem such as pimples, pustules, and blackheads which is a concerning issue. We all face this once in our lives and to treat this we recommend Patanjali aloe vera gel as it provides the required nourishment to the skin with healing properties to treat acne.
Natural Moisturizer – Patanjali aloe vera gel makes your skin supple and soft. You just have to mix it with your daily moisturizer to apply it on face, legs, and hands to have best results in skin smoothening as it contains a polysaccharide-rich composition which acts as a natural skin hydrating agent.
Burn Injuries – If you are facing radiation and thermal burns then Patanjali aloe vera gel is for you as it supports the process of epithelization which helps in reducing the healing time by ensuring much faster recovery from the burns.
Dark Circles – Actually it's an pigmentation of skin and Melanin is the key responsible agent in skin discoloration. Patanjali aloe vera gel helps in controlling the production of melanin under the skin. Regular use of it has shown the tremendous result in the reduction of dark circles naturally
Wound Healing – Patanjali aloe vera gel helps in reducing the recovery time wounds by promoting collagen in the skin for faster healing of wounds. It also increased the degree of cross-linking as confirmed by the higher aldehyde content and reduced acid solubility in the skin. You can apply it directly on the affected area for its mesmerizing effects on the wound. Patanjali Aloe Vera gel can be used in different ways for a healthy lifestyle.
Some of the ways you can consider using are specified underneath:
Face pack – You can use it by mixing it with any face pack to moisturize the skin with a natural glow
Healing wounds – Apply Patanjali aloe vera gel on the affected area and leave it for 5-10 minutes till it gets absorbed in the skin
Dark Circles – Before bedtime applies the gel to the dark circles and thoroughly wash your face in the morning with any organic face wash
Sun Tanning – Use turmeric powder and Patanjali aloe vera gel to make a paste out of it. Apply the paste on the affected area for best results
Pimple Healer – Apply the gel directly on the affected area (Avoid touching pimple with your finger) this helps to dry of them faster and can be used to clear the skin from scar pigmentation
Lip Gloss/Lip Balm – Consider applying some aloe vera gel on your favorite lipstick to add natural sheer gloss to your lips
Night Cream – To have mesmerizing skin naturally apply Patanjali aloe vera gel before bedtime and gently massage to let it absorbed under the skin. Wash your face in the morning and stay a fresh whole day
Side effects of Patanjali Aloe Vera Gel
Although Patanjali aloe vera gel is a natural extract from the plant however, we have specified some of the reported side effects of aloe vera gel here:
Burning
Redness
Stinging Sensation
Blisters
Buy Patanjali Aloe Vera Gel
Follow this link to buy:
Patanjali Saundarya Aloe Vera Gel, 150ml
Disclaimer: Nothing in this article is to be construed as medical advice, nor it is intended to replace the recommendations of a medical professional. For specific questions, please consult a specialist for the advice.