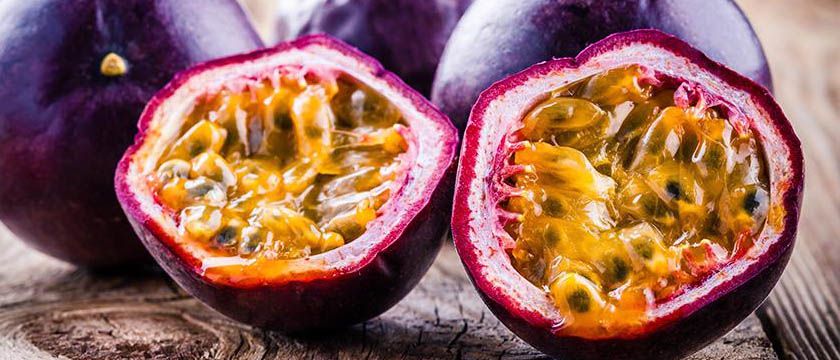 Overview of Passion fruit
Passion fruit belongs to Passiflora family and is native to southern Brazil and northern Argentina, however; it is cultivated across the globe due to the increasing demand in the market. It contains a high amount of nutrition such as vitamin C, vitamin A, fiber, iron, potassium, copper, magnesium, protein, carotenoids, and polyphenols. Moreover, passion fruit contains several medicinal properties such as antioxidant, anti-inflammatory, antibacterial, antimicrobial, and other properties. You can prevent numerous health problems such as digestion, stress, bones, diabetic, immunity, blood circulation, and insomnia.
You can purchase it through the online or nearby store and it is recommended to store it in a cool or dry place with no direct sunlight.
Nutritional value of Passion fruit
Passion fruit contains a high amount of nutrition as reported in various studies and we have specified some of the general nutritional values underneath:
| | |
| --- | --- |
| Nutrition | Amount |
| Calories | 97 |
| Total fat | 0.7 gram |
| Cholesterol | 0 mg |
| Sodium | 28 mg |
| Potassium | 348 mg |
| Total carbohydrate | 23 gram |
| Protein | 2.2 gram |
| Vitamin A | 25% |
| Vitamin C | 50% |
| Calcium | 1% |
| Iron | 8% |
| Vitamin D | 0% |
| Vitamin B6 | 5% |
| Cobalamin | 0% |
| Magnesium | 7% |
**Above mentioned ingredients may vary from the actual values.
Health Benefits of Passion fruit
Passion fruit has numerous health benefits as reported in various studies and we have specified some of the best-reported health benefits underneath:
Boost immunity – Do you have a low immune system and get infected frequently then passion fruit is for you as it is loaded with vitamin C, carotene, and cryptoxanthin which boost the immune system and metabolism
Digestion – Fiber is the wonder element to improve the digestion and passion fruit contains a high amount of fiber which can naturally improve your body metabolism and digestion
Improves circulation – You can use it to improve the blood circulation as it naturally improves the RBC count and dilates the vessels that can do wonders if consumed regularly or as suggested by the specialist
Reduce Anxiety -The fruit can nourish the body with an optimum level of potassium and folate that helps in reducing the anxiety because it naturally enhances the blood circulation and reduces the stress hormones in the body
Strengthens the bones – There are several factors which can lead to a bone-related problem, however; if you consume passion fruit regularly you can reduce the problem or deficiencies naturally as it contains the magnesium, calcium, iron, and phosphorus that strengthen the bones and ligaments
Other health benefits have been mentioned underneath:
Cures respiratory ailment
Improve skin complexion
Treats Insomnia
Promote cardiovascular health
Side effects of Passion fruit
Passion fruit is safe and well tolerated by the individuals, however; few individuals have reported mild reactions after consuming it due to the intolerance or allergic reaction and we have specified some of the commonly reported side effects underneath:
Abdominal discomfort
Nausea or vomiting
Skin rashes (extreme)
Redness or inflammation
**It is recommended to discontinue the use immediately if you observe any abnormal changes after using it.
How to eat Passion fruit
Passion fruit can be consumed in several ways, however; extracting the flesh has a traditional way which we have specified underneath:
Step 1: Choose the ripened fruit with slightly wrinkled and a deep purple color
Step 2: Wash the fruit thoroughly to remove unwanted chemicals, bacteria or bugs
Step 3: Gently, cut the fruit in half with a knife
Step 4: Scoop out orange flesh from the inner white skin (Note: Don't scrape the skin too hard because the layer is bitter and tastes bad)
Step 5: You can store the flesh in a container and consume it as per your recipe or choice
FAQ's for Passion fruit
Passion fruit
Disclaimer: Nothing in this article is to be construed as medical advice, nor it is intended to replace the recommendations of a medical professional. For specific questions, please consult a specialist for advice.