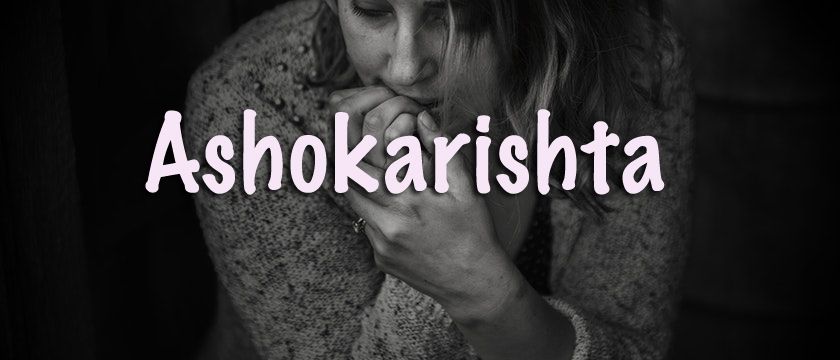 Overview of Ashokarishta
Ashokarishta is an Ayurvedic medicine which has several health benefits especially female related problems such as painful periods, heavy bleeding, low ovarian function, menorrhagia, dysmenorrhea, polycystic ovarian syndrome, and other severe health problems. It contains numerous medicinal properties anti-inflammatory, carminative, muscle relaxant, antioxidant, adaptogenic, mild estrogenic, and digestive stimulant. Due to the formulation of herbal composition and extracts, it contains the self-generated alcohol of 5% – 10% which help in strengthening the uterus and other female related health problems naturally. Recent studies have shown the tremendous results of Ashokarishta on females overall health and boost the energy levels throughout life. It is recommended to store it in a cool or dry place with no direct sunlight. Keep it out of children reach and should be stored in an airtight container.
Ingredients of Ashokarishta
Ashokarishta contains several herbal compositions of herbs and extract which has numerous health benefits as reported in various studies. We have specified the general ingredients underneath:
| | |
| --- | --- |
| Botanical Name | Common Name |
| Saraca Asoka Bark | Ashoka Bark |
| Saccharum Officinarum | Jaggery |
| Woodfordia Fruticose Flowers | Dhataki Flowers |
| Cyperus Rotundus | Mustak Roots |
| Zingiber Officinale | Ginger Rhizome |
| Nigella Sativa | Kalonji |
| Berberis Aristata | Daruharidra |
| Nymphaea Stellata | Utpala Flowers |
| Emblica Officinalis | Indian Gooseberry |
| Terminalia Bellerica | Vibhitaki |
| Terminalia Chebula | Haritaki |
| Mangifera Indica Seeds | Mango Seeds |
| Cuminum Cyminum | Cumin Seeds |
| Adhatoda Vasica | Adulsa |
| Santalum Album | Sandalwood |
**Above mentioned ingredients may vary from the actual product.
Health benefits of Ashokarishta
Ashokarishta have numerous health benefits as reported in various studies however, we have specified the best-reported health benefits underneath:
Polycystic Ovarian Syndrome
Polycystic Ovary Syndrome (PCOS) is a severe health problem related to females especially between the age group of 18-45 years. It is a hormonal disorder which can cause several health problems such as irregular menstrual cycle, acne, hair fall, polycystic ovaries, facial hair, infertility, and other health problems. However, you can reduce the symptoms of PCOS by using Ashokarishta regularly or as prescribed by the specialist due to the high composition of natural herbs and extract but it is recommended to use it under expert supervision for best results and to avoid any complications.
Menorrhagia
The primary symptoms of Menorrhagia are the abnormal heavy and prolonged menstruation which can very problematic and a matter of concern for the female health. Ashokarishta have the medicinal properties that can reduce the menorrhagia symptoms naturally and improve the functioning of the uterus for the overall health. It can be used for other menstrual problems such as metrorrhagia and menometrorrhagia moreover, Ashokarishta has shown the positive results in improving the normal and regular flow of the menstruation.
Dysmenorrhea
Several factors can lead to the dysmenorrhea problem like weak uterus muscles and contraction function however, this ayurvedic formulation can do wonders in improving the uterine function such as enhancing the uterus contraction and strengthening the muscles which help in reducing the symptoms of Dysmenorrhea problem naturally.
Other known best health benefits have been specified underneath:
Helps in reducing inflammation
Flushing out the toxins from the body
Boost immune system
Side effect of Ashokarishta
Ashokarishta is safe and well tolerated by the individuals however, few studies suggest the severe side effect due to overdosage or intolerance to any of the ingredients and we have specified some of the commonly reported side effects underneath:
Indigestion
Acid reflux
Constipation
Irregular menstrual cycle
Uterine contraction
Vomiting or nausea
High blood pressure
Palpitation
Burning sensation
**It is recommended to discontinue the use immediately if you observe any of above-mentioned symptoms.
*The pregnant and lactating woman should avoid using it.
Dosage of Ashokarishta
Ashokarishta dosage depends upon several factors such as height, weight, age, and severity of the problem however, we have specified the general dosage underneath:
10ml – 20ml

Twice a day

With lukewarm water
After meals
Note: Maximum allowed dosage is 60ml in a day and should not be exceeded to avoid any complication.
Price of Ashokarishta
Ashokarishta can be easily purchased through the online or nearby store at a nominal cost of INR 160 and USD 24. Generally, it is available in 450ml packaging with an expiry of 10years from the date of manufacture but we recommend to check the packaging for the details.
Buy Ashokarishta
To buy Ashokarishta click on the link mentioned below:
Dabur Ashokarishta Tonic – 450 ml
Disclaimer: Nothing in this article is to be construed as medical advice, nor it is intended to replace the recommendations of a medical professional. For specific questions, please consult a specialist for the advice.