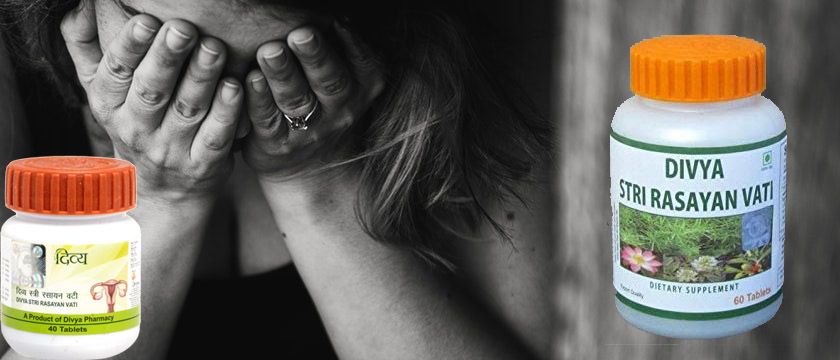 Overview of Divya Stri Rasayan Vati
Divya Stri Rasayan Vati is used to treat gynecological problems especially menstrual disorders such as excess bleeding, pain, and congestion. Several factors can cause gynecological problems however, using Divya Stri Rasayan Vati can prevent and treat such disorders naturally. Recent studies have shown positive results in curing women health related problems like wrinkles, acne, dark circles, tiredness, and laziness. It is being prepared for the formation of several herbs and extracts to provide health benefits naturally.
Composition of Divya Stri Rasayan Vati
Divya Stri Rasayan Vati contains the natural herbs and extracts in an appropriate quantity. We have specified the general composition underneath:
| | | |
| --- | --- | --- |
| Common Name | Botanical Name | Quantity (each tablet contains) |
| Shivlingi | Bryonia Laciniosa | 28 mg |
| Paras Peepal | Thespesia Populnea | 28 mg |
| Naagkeshar | Mesua Ferrea | 28 mg |
| Ashwagandha | Withania Somnifera | 28 mg |
| Sharpunkha | Tephrosia Purpurea | 28 mg |
| Mulethi | Glycyrrhiza Glabra | 28 mg |
| Amla | Emblica Officinalis | 28 mg |
| Devdaru | Cedrus Deodara | 28 mg |
| Kamal Gatta | Nelumbo Nucifera | 28 mg |
| Shwet Chandan | Santalum Album | 28 mg |
| Putrajeevak | Putranjiva Roxburghii | 28 mg |
| Shilajeet | Purifies Asphalatum | 28 mg |
| Pravel Pishthi | Coral calcium processed with rose water | 28 mg |
| Vanshlochan | Bambusa Arundinacea | 28 mg |
| Arka | Calotropis Mukul | 26 mg |
| Guggulu | Commiphora Mukul | 26 mg |
| Lauh Bhasma | – | 26 mg |
**Above mentioned composition may vary from the actual product.
Benefits of Divya Stri Rasayan Vati




Divya Stri Rasayan Vati provides benefits in the treatment and prevention of several women health related problems naturally. We have specified some of the known benefits underneath:
Menstrual Disorder – Mild abnormalities are very common in females such as mild cramping, irregular bleeding, headaches, mood swings, and breast soreness however, severe symptoms like excess bleeding, bloating. anxiety, excess tiredness, diarrhea, and constipation which needs medical attention but Divya Stri Rasayan Vati can help you in treating above listed symptoms within few dosages
Menopause – Missing menstrual cycle for consecutive 12 months and cannot conceive naturally that stage is known as menopause. This is a natural stage which every woman will experience in her life usually after 45 of age. However, during this period woman may experience some serious health problems such as weight gain, reduced libido, memory loss, increased urination, hair loss, mood swings, anxiety, and UTI due to drastic hormonal changes in the body which can be reduced by consuming Divya Stri Rasayan Vati as prescribed by the expert
Strengthening Uterine Muscles – Divya Stri Rasayan Vati is used to strengthen the uterine muscles to avoid any complications such as vaginal prolapse, miscarriage, and irregular menstrual cycles as it acts as the natural tonic to strengthen the muscles for a healthy womanhood
Uterine Inflammation – It contains the anti-inflammation properties which help in reducing the uterine inflammation with pain and vagina dryness naturally. You can consider using it for a few weeks to treat the uterine inflammation but we strictly recommend you to consult a specialist before using it
Leukorrhea – Unusual discharge of mucus from the vagina in white or yellowish color which needs medical attention as it may be due to internal infection, early sign of pregnancy, and cancer however, Divya Stri Rasayan Vati can be used for the treatment of Leukorrhea as it stimulates the antibodies in the body and also provides the essential nutrients for the treatment naturally
Pelvic Pain – Recent studies suggest that Divya Stri Rasayan Vati can reduce the pelvic pain due to the availability of natural herbs which acts as analgesic agents in the body especially in the pelvic area
Skin Problems – Due to the deficiency of valuable nutrients you may observe skin problems such as wrinkles, acne, and under eye dark circles which can be prevented by the consumption of Stri Rasayan Vati for few weeks or as prescribed by the specialist
Side Effects of Divya Stri Rasayan Vati
Surprisingly Divya Stri Rasayan Vati doesn't have any side effects on the woman as reported however, overdosage can cause some health problems which have been specified underneath:
Irregular Periods or Menstrual cycle
Amenorrhea
Dizziness
Burning sensation
Vomiting or Nausea
Above mentioned side effects may vary from individual and we strictly recommend to consult a specialist for the advice.
Dosage of Divya Stri Rasayan Vati
Divya Stri Rasayan Vati dosage depends upon the age, body weight, severity of illness, and health problem however, we have specified the general dosage underneath:
2 Tablet twice a day
With lukewarm water or milk
After meals
Availability of Divya Stri Rasayan Vati
Divya Stri Rasayan Vati is available in the packing of 20 gram and 40-gram container. Currently, Patanjali is manufacturing the formulation in tablet form. You can purchase it through the online and nearby market at a nominal cost of 50 INR and 6 USD. It is recommended to store Divya Stri Rasayan Vati in a cool or dry place with no direct sunlight. Keep out of children reach and should be consumed by the woman only.
Buy Divya Stri Rasayan Vati
Follow this link to buy:
PATANJALI Stri rasayan vati 80 tablets (Pack of 2)

Disclaimer: Nothing in this article is to be construed as medical advice, nor it is intended to replace the recommendations of a medical professional. For specific questions, please consult a doctor for the advice.