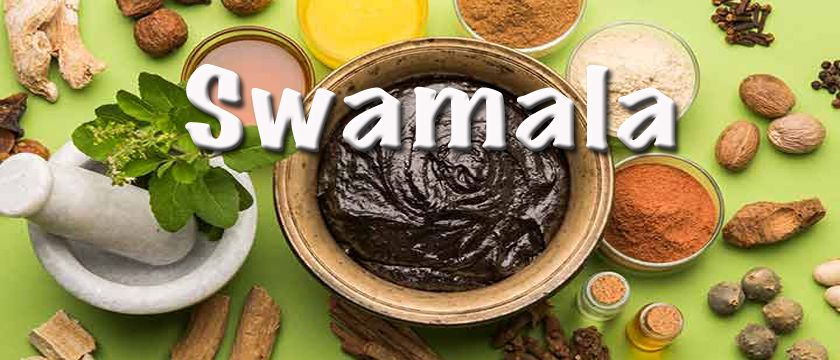 Overview of Swamala
Swamala is an Ayurvedic medicine used for the treatment of chronic disease, relieve tiredness, gain weight, debility, sexual related problems, debility, chronic fever, female infertility, tuberculosis, and chronic tiredness. It contains several medicinal properties such as anti-inflammatory, antibiotic, analgesic, aphrodisiac, carminative, immunomodulator, and anti-aging properties. Swamala should be used under medical supervision as it contains a high-quality formulation of strong ingredients which can be beneficial in improving the overall health however, excess dosage or allergic reaction can lead to a severe health problem that needs medical attention on priority to avoid any further complication. It is recommended to store it in a cool or dry place. Keep it away from children reach and store it in an airtight container.
Ingredients of Swamala
Swamala contains the high-quality ingredients of herbal extracts and herbs which has numerous health benefits. We have specified the general ingredients per 10 gram underneath:
| | |
| --- | --- |
| Ingredients | Quantity |
| Ashtavarga | 9.959 gram |
| Calx of Gold | 1 mg |
| Calx of Silver | 1 mg |
| Calx of Mica | 1 mg |
| Calx of Iron | 10 mg |
| Powder of Coral | 10 mg |
| Poornachandrodaya | 14 mg |
**Above mentioned ingredients may vary from the actual product.
Health benefits of Swamala
Swamala have numerous health benefits as reported in various studies and we have specified the best-reported health benefits underneath:
It has shown the positive results in reducing the Debility problem within few dosages
You can use it to gain weight naturally as it contains the high quality of composition which improves the body metabolism and function for the overall health
Due to aphrodisiac properties, it stimulates the sexual strength and reduces the infertility symptoms
You can use it improve the body strength and reduce the chronic tiredness in the body within few dosages
Recent studies have shown the tremendous result in boosting the immune system and prevent a frequent attack and other infection
Side effects of Swamala
Swamala is safe and well tolerated by the individuals however, few studies suggest the severe side effect due to overdosage or intolerance to any of the ingredients and we have specified some of the commonly reported side effects underneath:
Indigestion
Neurological disorders
Constipation
Vomiting or nausea
High blood pressure
Palpitation
Burning sensation
**It is recommended to discontinue the use immediately if you observe any of above-mentioned symptoms.
*The pregnant and lactating woman should avoid using it
Dosage of Swamala
Swamala dosage depends upon several factors such as height, weight, age, and severity of the problem however, we have specified the general dosage underneath:
1 – 2 tbsp
Twice a day
With lukewarm water
After meals
Note: Maximum allowed dosage is 6 tbsp
in a day and should not be exceeded to avoid any complication.
Price of Swamala
Swamala can be easily purchased through the online or nearby store at a nominal cost of INR 800. Generally, it is available in 1 kg packaging with an expiry of 5years from the date of manufacture but we recommend to check the packaging for details.
Buy Swamala
To buy Swamala click on the link mentioned below:
Ayurvedic Total Health For All Seasons Dhootpapeshwar Swamala Chywanprash 1 Kg

Disclaimer: Nothing in this article is to be construed as medical advice, nor it is intended to replace the recommendations of a medical professional. For specific questions, please consult a specialist for the advice.