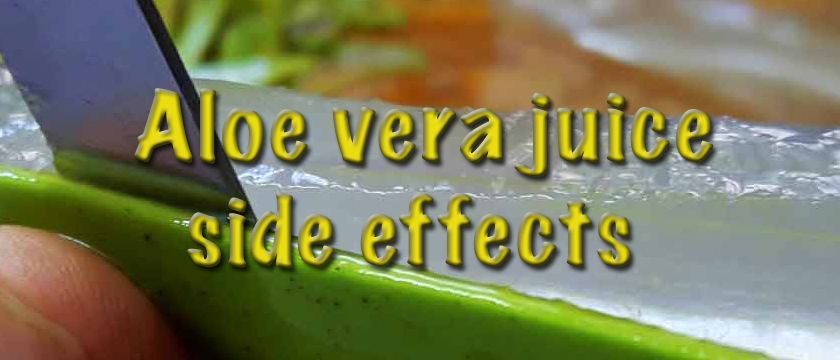 Aloe vera juice side effects
Aloe vera is safe and well tolerated by the individuals as reported in various studies, however; few individuals have reported a severe health problem due to the overdosage or intolerance to aloe vera. We have specified the commonly reported side effects underneath:
Constipation
Few studies suggest that excess consumption of aloe vera can lead to constipation due to the laxative properties it can block the bowel movement and individual face difficulty in flushing out the waste out from the rectum. Moreover, it can stimulate the dehydration and deplete the potassium linning from the intestine that is considered to be one of the reasons for constipation.
Skin Rashes
Many individuals have reported skin rashes such as redness, patchy skin, burning sensation, and extreme itching post consuming aloe vera juice due to the allergic reaction. It is recommended to discontinue the use immediately if you observe any rashes or unusual change over the skin.
Diarrhea
Diarrhea is the condition of frequent watery stools post consuming the aloe vera juice as it contains the high amount of Anthraquinone in the latex which stimulate the electrolyte imbalance that leads to diarrhea.  You should consult a specialist for the advice if you observe diarrhea symptoms to avoid any further complications.
Pregnancy
During the gestation, aloe vera juice should be avoided as it may stimulate the uterine contraction which can lead to delivery complications. Few studies suggest that aloe vera can lead to miscarriage and hamper the overall growth of infant if consumed during lactation.
Diabetes
Regular consumption of aloe vera can lower the blood sugar level which can worsen the condition of a diabetic patient. Moreover, aloe vera juice can reduce the effects of diabetes medicine on the patients which helps in controlling blood sugar level.
Liver disorder
Due to the excess consumption of aloe vera, it can lead to inflammation in the liver and increase the toxicity in the liver that can cause severe health problems if not treated timely. You should seek medical advice immediately if you observe any discomfort or pain.
Muscle weakness
Few studies suggest that regular consumption of aloe vera juice can lead to muscle weakness especially in the heart that causes irregular heartbeat and palpitation. However; if you discontinue the use and eat a healthy diet then you may revive the muscle weakness to normal within few weeks as reported in the studies.
Menstruation
Aloe vera can cause excess bleeding, abdominal cramps, painful menstruation, and other severe discomforts during the menstruation post consuming the juice due to the intolerance or excess consumption.
Buy Aloe vera juice
To buy Aloe vera juice click on the link mentioned below:
Baidyanath Aloe Vera Juice – 1 L
Disclaimer: Nothing in this article is to be construed as medical advice, nor it is intended to replace the recommendations of a medical professional. For specific questions, please consult a specialist for the advice.