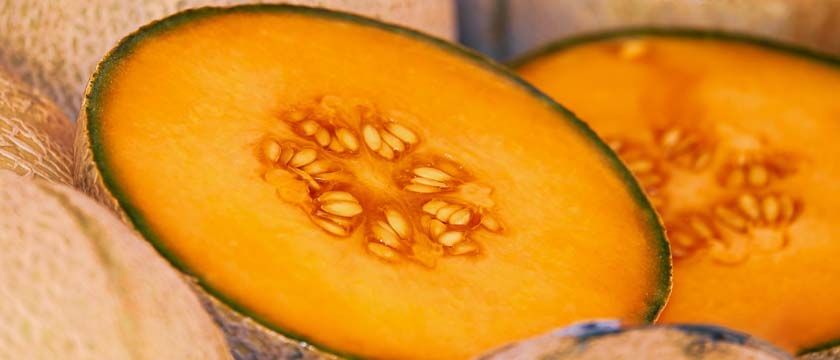 Overview of Cantaloupe
Cantaloupes are commonly known as muskmelons, mush melons, rock melons, and Persian melons. Their high water content helps ward off dehydration and combat the heat while their refreshing taste provides a guilt-free, low maintenance dessert for kids and adults alike. The mildly sweet and juicy flavor of cantaloupe makes it a perfect fruit for even the pickiest palates.
Cantaloupe Benefits
Fruits are always beneficial when it comes about your health. Muskmelon grows in warm soil with moderate climatic conditions. Here are some of the best-known benefits are listed here:
Cantaloupe compounds may protect you against age-related macular degeneration
It decreases the risk of obesity
Strengthens the immune system, prevents arthritis, and aids in managing diabetes
You can improve your skin tissue and hair follicles
Reduce the chances of cancer,
Improve the health of the lungs
Asthma can be prevented if consumed regularly
Regulates Blood Pressure
Fights against Lung and Oral cavity cancers
Protects from UV rays
Boost Immune System
Soothes stomach ulcers
Reduces constipation
Inhibit kidney stones
Cantaloupe Nutrition level
It contains carbohydrates, protein, and water. Vitamins in a cantaloupe include vitamin A, beta-carotene, vitamin B1, vitamin B2, vitamin B6, vitamin B9, vitamin C, and vitamin K. The mineral wealth of this fruit includes potassium, calcium, iron, magnesium, phosphorus, and zinc.
Cantaloupe Side effects
If you have an allergy to muskmelon, even eating a few bites could trigger symptoms. Many common symptoms occur within the digestive system; these symptoms include itching of the mouth, abdominal pain, diarrhea, nausea or vomiting, dizziness, nasal congestion, trouble breathing and hives are also common symptoms. In severe cases, you may experience anaphylaxis, a condition that can cause constriction of the airways, a rapid pulse, and loss of consciousness.
Recipe 1:
Cantaloupe smoothie:
"This is an extremely basic recipe! A sweet, healthy approach to begin your day with a delightful, one of a kind flavor."
Ingredients
1 cup fresh yogurt
1/2 cup muskmelon/Cantaloupe cubed
1/2 cup orange juice
1 tbsp honey
3-4 ice cubes
Instructions
blend all the ingredients in the blender
Process until smooth
Serve chilled and get refreshed
Recipe 2: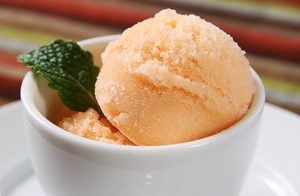 Cantaloupe Sorbet:
"Pureed and frozen cantaloupe have a remarkably creamy texture."
Ingredients
2/3 cup sugar
1/2 cup water
3 cups 1-inch pieces peeled seeded cantaloupe (about 1/2 cantaloupe)
Instructions
Combine sugar and water in medium saucepan. Stir over medium heat until sugar dissolves. Bring to boil. Transfer to a 11x7x2-inch glass dish and chill until cold, about 2 hours.
Puree cantaloupe in the blender until smooth. Add to sugar syrup in a dish and stir until well blended. Freeze until almost firm(stirring occasionally) for at least 3 hours or overnight.
Transfer cantaloupe mixture to large bowl. Using an electric mixer, beat until fluffy. Return to freezer and freeze until firm (do not stir), at least 3 hours or overnight. (Sorbet can be prepared 3 days ahead.) Cover and keep frozen.
To buy click on the link mentioned below:
Flyberry Gourmet Dehydrated Cantaloupe Slice 250 Grams

Disclaimer: Nothing in this article is to be construed as medical advice, nor it is intended to replace the recommendations of a medical professional.