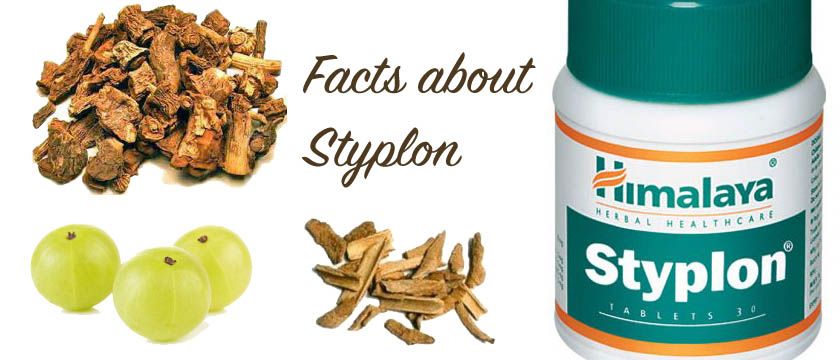 Overview of Himalaya Styplon
Himalaya Styplon is an Ayurvedic medicine manufactured by Himalaya drug company which has numerous health benefits such as gum bleeding, hemorrhoids, epistaxis, gynecological bleeding, hematuria, hemoptysis, abdominal uterine bleeding, and other severe bleeding problems as reported in various studies. Moreover, Styplon has several medicinal properties like anti-inflammatory, demulcent, astringent, antioxidant, hemostatic, vasoconstrictor, and healing properties. You can purchase it through the online or nearby store at a nominal cost of INR 85. It is recommended to store it in a cool or dry place with no direct sunlight.
Ingredients of Himalaya Styplon
Himalaya Styplon contains numerous organic herbs and extract which has numerous health benefits. We have specified some of the general ingredients underneath:
| | |
| --- | --- |
| Ingredients | Quantity |
| Emblica Officinalis | 130 mg |
| Adhatoda Vasica | 30 mg |
| Cynodon Dactylon | 30 mg |
| Mesua Ferrea | 60 mg |
| Mimosa Pudica | 30 mg |
| Symplocos Racemosa | 65 mg |
| Santalum Album | 65 mg |
| Hemidesmus Indicus | 65 mg |
| Praval Pishti | 130 mg |
| Sourashtri Bhasma | 30 mg |
| Trinakantamani Pishti | 30 mg |
**Above mentioned ingredients may vary from the actual product.
Health benefits of Himalaya Styplon
Himalaya Styplon have numerous health benefits a reported in various studies, however; we have specified some of the best-reported health benefits underneath:
Hemorrhage is a condition of blood vessel rupture in the brain causing bleeding that can lead to a severe health problem, however; styplon can be used to prevent or cure the problem due to the composition of Indian gooseberry that has antioxidant, anti-inflammatory, and hemostatic properties which can do wonders in the hemorrhage problem
Hemorrhoid is swollen and inflamed veins in the rectum that cause bleeding and other abdominal discomforts, however; styplon has shown tremendous results in curing hemorrhoid problem
Epistaxis is an acute hemorrhage problem of nasal, nostril, nasopharynx that can be cured by regular dosage or as prescribed by the specialist dosage of Himalaya Styplon
Bleeding gums can be treated by styplon due to the high-quality composition blended in the tablets. You can use it to prevent the plaque problem that is considered to be the primary reason for bleeding gums within a few weeks of regular use
Other commonly reported health benefits have been mentioned underneath:
Blood in urine
Gynecological problem
Open wound
Bleeding disorders
Uterine bleeding
Side effects of Himalaya Styplon
Himalaya Styplon is safe and well tolerated by the individuals, however; few individuals have reported mild allergic reactions due to the intolerance to any of the ingredients available in the composition and we have specified some of the commonly reported side effects underneath:
Indigestion
Acid reflux
Constipation
Vomiting or nausea
Palpitation
**It is recommended to discontinue the use immediately if you observe any abnormal changes after using it.
*The pregnant and lactating woman should avoid using it.
Dosage for Himalaya Styplon
Himalaya Styplon dosage depends upon several factors such as height, weight, age, and severity of the problem, however; we have specified the general dosage underneath:
1 – 2 Tablets
With lukewarm water
Twice a day
After meals
**Maximum allowed dosage is 6 tablets per day and should not be exceeded to avoid any complications.
*It is recommended to consult a specialist for the dosage advice and self-medication is discouraged.
Buy Himalaya Styplon
To buy Himalaya Styplon click on the link mentioned below:
Disclaimer: Nothing in this article is to be construed as medical advice, nor it is intended to replace the recommendations of a medical professional. For specific questions, please consult a specialist for advice.