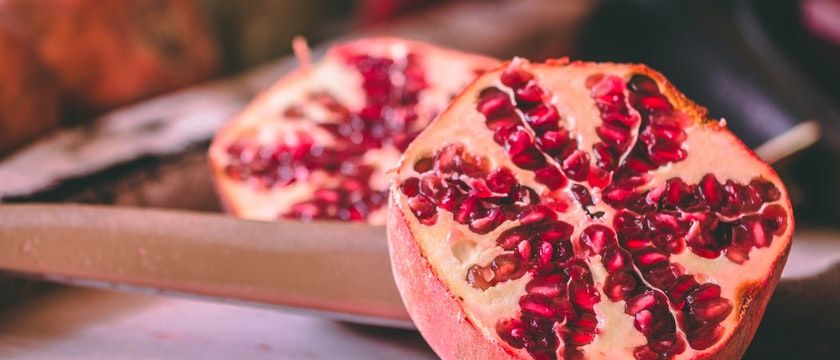 Overview of Pomegranate
The origin of pomegranate is said to be thousands of year back in Egypt. It is also known as Punica granatum. Pomegranate tree grows to a 12 -16 feet height and mostly cultivated in locations with tropical or warm temperate climates. This fruit grows on a shrub and is drought tolerant. They are classified as berries, its flowering starts in spring and the fruit matures in about 6 to 7 months.
Pomegranate is a good source of vitamins, especially vitamin A, C, and E, as well as folic acid. Ripe pomegranates skin is thick and inedible and is filled with thousands of delicious red colored edible seeds called arils. Pomegranate is used as a juice, jam, jelly, dips or topping, salads, culinary, and raw seeds can be eaten as well.
Health benefits of Pomegranate
Pomegranate has anti-oxidant, anti-inflammatory, anti-viral, and anti-tumor properties which make it a king of all fruits. Research has shown tremendous health benefits for humans and some of the known benefits as reported have been specified underneath:
Combating Cancer – Recent studies have shown that pomegranate can slow down the cancer cell. It can even induce apoptosis in cancer cells as it contains unicic acid and omega-5 poly-saturated fatty acid which helps in curing cancer especially prostate and breast cancer
Cardiovascular System – It helps in clearing the arteries of cholesterol and balancing blood pressure due to its anti-oxidant properties it strengthens your heart
Prevents Arthritis – Anti-inflammation properties help in reducing the inflammation and have shown a significant decrease in collagen-induced arthritis
Prevent Bacterial Diseases – Pomegranate seeds have anti-bacterial properties which help in preventing bacterial infection such as viral and candida
Source of Energy – Being a rich source of vitamins and sugar level it helps in maintaining a high level of energy throughout the day
Indigestion – You can consider using pomegranate peel, leaves, and its juice to cure stomach disorders such as indigestion, dysentery, cholera, and diarrhea
Anemia – It improves the blood circulation in the body by providing iron to the blood, thus helping in reducing anemia such as exhaustion, dizziness, and weakness
Erectile Dysfunction – You can improve your testosterone level and blood flow in the penis to overcome the erectile dysfunction naturally
Boost Immunity – Pomegranate can boost your immunity as it contains the vitamin C which strengthens and improve the immune system to combat common flu, and sore throat
Prenatal Care – It is a great source of a number of vitamins and minerals including folic acid which is a crucial element of a prenatal diet
Anti-aging – You can slow down the process of aging by reviving the skin cells and prevent hyperpigmentation caused by skin exposure
Hair fall – Juice can strengthen the hair follicles which in turn prevent the hair fall naturally as it provides the nourishment of vital nutrients such as vitamin A
Improve Memory – The polyphenols found in the juice have been shown to be neuroprotective and is loaded with health-promoting and disease-fighting antioxidants, which helps in improving memory
Diabetes – It helps in decreasing blood sugar levels and insulin level to maintain diabetes in the body
Healing Scars – Studies have proven that the regeneration of cells in the epidermal and dermal layers of the skin can be improved by consuming pomegranate. It has an ability to hasten the process of healing of wounds
To buy click on the link mentioned below:
Real Fruit Power, Pomegranate, 1L (Pack of 2)

Disclaimer: Nothing in this article is to be construed as medical advice, nor it is intended to replace the recommendations of a medical professional. For specific questions, please consult a specialist for the advice.